Personal Website for Henrik Liltorp!
I have created this website primarily for two reasons. One to show off my skills in web design, photography and copywriting. Therefore, it will be possible my Henrik Liltorp's resumé, recommendations etc. from previous employers. At the same time there will be some articles, which I have written, as well as my best photographs, some will from my portfolio.
The other reason that I have created the website is a bit more for my own sake. I want to talk about and share my interest, and who I am as a person. Besides, I have a small idea about at some time splitting the website into two and moving my recipes on their own domain. That site would be with at mixture of Italian and Danish recipes, which would also include some lactose free recipes.
I, Henrik Liltorp is as a person friendly towards my fellow humans. Loyalty is very important for me. I am at times extremely perfectionistic.
N.B Only my frontpage, my bachelor's degree and my portfolio are in English so the other links will lead to Danish pages.
Interests
Nature
One of my great interests is nature. I like walking outside with my camera and just talking pictures, whilst I enjoy the surroundings. My interest in nature probably derives from my childhood, where I often visited my grandparents on holidays. They lived in walking distance from both Krabbesholm Skov and Skive Fjord. Therefore, I have been walking a lot in the forrest and by the water as a child.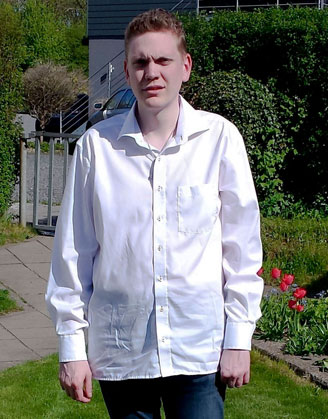 I spend a good deal of time watching nature programs in television and tries to suck information in like a sponge. Especially the programs about the big cats have always been among my favourites.
in general, I am a big fan of animals. I grew up in a family with a dog. My dog has always been one of my favourite motives for my pictures.
Sports
Something else that interest me is sports. I have myself gone to swimming and been playing football and darts. Swimming and football were when I was in primary school, where swimming was the sport, I was most interest in and serious about, until I got a shoulder injury, which ended my competitive swimming career.
Darts I only played for a short period in my teens. I still managed to get a few trophies, which had the name Henrik on them. Furthermore, I have always enjoyed playing table tennis and badminton.
Today my sport activity is primarily focused on watching sport rather than doing, but I guess that's not that uncommon. I follow football, ladies' handball, NBA basketball, formula 1 and cycling.  Besides that, I watch a little tennis and snooker. And then there is the Olympic Games, where all kinds of weird sports are showed, and you feel inspired to watch some of it just because it is the Olympic Games.
Food
I am as many other people very fond of food but for me it is more than just eating it. I love to cook for my friends or my family and have done so since I was a teenager. Since I have grown up, I have also started watching countless cooking shows on television, both to learn and to find inspiration. The four months I lived in Italy in 2011 and the fact that I work at a restaurant have only helped on my interest in food.
That is why I have been working on collecting some of my recipes or write does down that wasn't already. As mentioned earlier, a future goal of mine is to have a website called something like "Lactose Free Recipes: Danish & Italian – Henrik Liltorp".
Books, Movies & TV Series
I spend a lot of time on reading books and very much enjoy the feeling of being in the story of a book. My preferred categories are fantasy, historic novels and crime. The books that I read are both in Danish and in English, which is a bit random, but I enjoy keeping my English up to scrap, even though I read my books a little slower then.
I watch a fair bit of movies but even more tv series, and I believe I was once called a "tv series addict". What I like about series is just the fact that you get to know the characters. Therefore, it's obvious that I am fan of movie series too. For me the biggest on is the James Bond series, which I also ended up writing my bachelor's degree about at University.
At some point, I'm also thinking that I want to write a few articles with comparison of books versus movies/series. The articles will primarily be about which to omit and which that's a must.
Music
Another of my great passions is music. I listen to a lot music and in so many different genres. Pretty much all except for Heavy Metal and what reminds of it. I particularly like R n´B and that kind of music. Music makes me relax and is at the same time able to improve my mood if it's bad.
Unfortunately, I have never been able to play an instrument myself, even though I have tried both on my grandmother's organ and on a recorder. Maybe the patience and the self-discipline are missing. I think so…